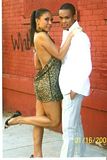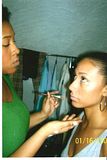 My Friend Roger Omeus, (remember that name, he's going to be famous) is self producing, directing his very first film called Finding Me. (talk about getting it done). I agreed to be his
jack of all trades
makeup artist I wasn't available for all of the shooting dates but for the most part we got it done. I have to first say I had so much fun doing this! Everybody that is/was involved with this film are a great bunch of people that I laughed, joked and was very happy to spend my Weekends with
when I was full of Dunkin Doughnuts
. j/k Check out the website
www.thanks4findingme.com
and add them on myspace
myspace.com/findingmethemovie.
Check out this video: Behind the scene of FINDING ME THE MOVIE
This is going to be a great film!
2 Comments:
January 2, 2008 at 8:49 AM

I've been hearing about this film. I can't wait until it comes out. When will it come out.

TLA Releasing said...

April 16, 2009 at 6:49 PM

It's coming out on DVD on April 21st!